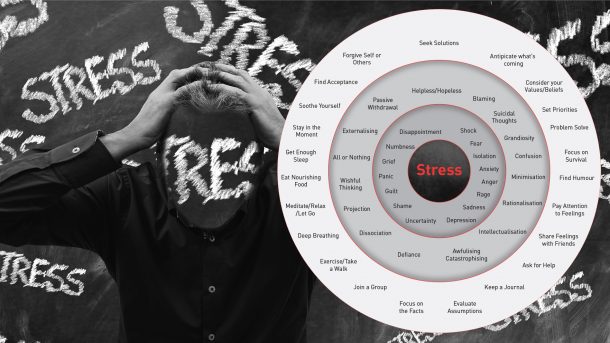 The Stress Circle
Stress hits us in different ways. 
Our first response is often simply a feeling; somewhere in the body.   Some feelings are shown in the second ring from the middle of this picture
CLICK HERE view the Stress Circle
On the whole, it's not a great idea to act solely on the basis of such feelings.
Feelings are a guide and they provide the energy that propels movement … but we all know that acting on impulses without considering the consequences can be a recipe for disaster! 
So we try and engage the mind…
Problem is, the thing that does the rapid problem-solving when we are really stressed is the part of the brain that's designed to get us out of trouble quickly.  This is our emotional brain – it's quick, but it's dirty! It looks for patterns, matches them against past experiences and makes us react.  Great for avoiding imminent danger but near useless in complex, modern life.  The next ring shows the sort of thinking errors that can creep in.
Take a breath … create some space … calm the body BEFORE doing anything.  Try some of the things in the outside circle before you do anything at all.  Get out of your own way and jam a psychological spanner in the stress-autopilot.  You'll be so much better for it…
Stay calm.  This is just day 1 of Lockdown 2.0.