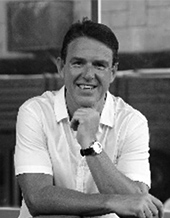 We spend out a third of our lives in bed, so sleep plays a huge part in how we feel and function.  My passion is breaking down the mysteries of sleep.  Having spent over 20 years in healthcare, I have provided advice, support and intervention across a wide range of conditions to promote good sleep patterns and quality sleep.  
I am a registered hypnotherapist, naturopath and osteopath, running a successful practice in sleep advice and support in London and I also provide online advice, help and tips to those suffering from poor sleep.
My background and experience in nutrition (BSc. in Food Science and Food Economics) also enables me to provide guidance on the impact of what we eat and drink on not just our sleep, but also our overall wellbeing.
I have produced articles on sleep for the national press, which have been aired on BBC national and local radio, along with major commercial stations.  I have also worked on BBC's Strictly Come Dancing as their osteopath!
I am passionate about running sleep and stress management workshops and promoting the wellness at work that helps underpin high levels of productivity.