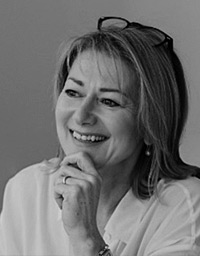 I stand for nurturing growth & wellbeing and I do that through my values of thoughtful creativity, always learning and quiet strength. It's been my privilege to work on and with some of the world's biggest brands though my time in Marketing, Planning and Agency & Consultancy worlds.
Over the last 30 years I've moved from being at the centre of commercial activity in Marketing (Whitbread and Kraft) to the creator, supporter & implementer of ideas in Planning  and Consultancy (WPP and Accenture) and now I find myself happy and feeling most at home coaching and supporting the people who need to be at their best to do all those wonderful roles.
Now I spend my time being invited to help people be their most resourceful. I take many roles for clients from being their leadership guide, providing and promoting clarity and inspiration, being their challenger, wellbeing educator, coach and facilitator, and importantly, being the listener they need.
I have a passion for bringing the Mind, Body, Heart and sense of Purpose together for the ultimate aim of realising potential, success and happiness.