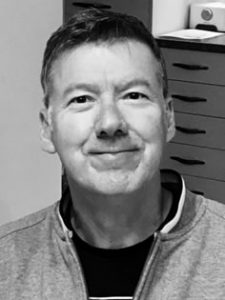 I have had the most fantastic career. Someone once said 'Find a job you love and you will never work a day in your life'. I have spent my career working with a myriad of individuals, good and great teams and complex organisations. Lots of the time it really has not felt like work, it has been so engaging, challenging and productive.
I have always been really positive. I was born in a poor part of Coventry, in a large Irish family. Money wasn't scarce – it was non-existent. But I remember the fun, the love and the competition with my brothers. I wanted more but I never felt deprived.
In my working life I have specialised in Change. The cliche 'Change is the only constant' can disguise some important messages. You cannot avoid change. Over time we get older, wrinklier, fatter, slower, less flexible but we can also become wiser, less self-conscious, calmer, more open to others.  The aim of our journey is, I believe, always to strive to be the best version of ourselves that it is possible to be at that time. That is realistic and achievable. When I work with people and teams, we concentrate on being the best that we can be, not trying to be something we are not.
I'm a strong proponent of values led leadership. I can't see how anyone would ever follow you if they didn't respect and admire you for the way that you behave in your everyday life and work. My philosophy allows for mistakes, requires forgiveness but works both ways. Being a parent has taught me more about leadership than any course I have ever attended!
Working with teams I tend to ask if we are in Rehearsal or Performance (pre- season training or the game). You are never in one or the other all the time. It would be too pressurised and you would burn out. Each provides different challenges and opportunities.  Teams need to try out things, build on existing skills, understand one another's strengths and challenges, learn how to complement each other.  Rehearsal should be fun, just pressurised enough and people must be allowed to experiment.  In Rehearsal, leaders need to dim their own light sometimes. The job is not to impress everyone with how brilliant you are; it is to grow their confidence, develop their capabilities; begin to render yourself unnecessary.
Great performance comes from brilliant preparation under the caring, educated gaze of a great coach or leader. It requires leaders to sit on their hands sometimes, know when to intervene but always remember the key challenge is threefold: 'Achieve the task', 'Build the Team' 'Develop the individual'. That is not new but it hasn't changed.
In my private life I love running, theatre, reading, CCFC and my wife and children. Sometimes I get the order wrong.